PCT TELETHON 09
PCT's 09 Telethon was a huge success. We won't lie, we've made more money but we certainly never had more fun. and the volunteers were wonderful, albeit a little tired.
FOG FEST 2009 A BLAST
the 2009 Fog Fest saw over 25 PCT volunteers come out for what was our best production to date! Missed it? Get in and get trained so you can participate for next year.
FILM NIGHT PACIFICA 2009
Toxic fumes fill the night sky; people are choking to death. Four miles away, seven Canadian Pacific train cars have derailed, spewing poisonous anhydrous ammonia into the air. Emergency personnel scramble to alert the residents of the deadly threat. But the local radio station tasked with providing emergency information play music. Just music. For more than 90 minutes.

Media consolidation rules had permitted Clear Channel to own six of Minot's seven commercial radio stations. All six were programmed from 1200 miles away.

But media policy is killing us. Literally.

And it's killing our democracy.
Media Reform is the battleline of this century. Broadcast Blues is the rallying cry for action
EVENING WITH THE STARS 2009 - MAY 30th
PCT honored these outstanding people for their amazing contributions: Jinny Jaquith, Mari Brumm-Merrill, Pat Paik, Father Len Calegari, Terra Nova Coach Bill Grey and Hal and Barbara Ash. Kudos to these shinning stars.
'EMPEROR' FRANK WINSTON -
CELEBRATION OF LIFE
Sat. Oct. 4th, 2008 12-3pm
Pacifica Community Center
540 Crespi drive

Photo by Marianne Hale
My Friend Frank 9-12-08 7:19am

by

Martin Anaya

frank d. winston (he prefers lower case for his name) lived in Pacifica for less than three years. I've had the pleasure of knowing him and calling him friend for most of that short time. I'll never forget that fateful meeting at the community center in early 2006 when Frank, Kathleen Manning and a group of seniors first proposed the idea for a TV show about Pacifica's history.

As is so often the case, I saw the concern in the group's eyes when I explained that Public Access TV requires their ability to learn the technical skills necessary to become the crew for their own show. I also watched as Frank took charge of that situation where many might simply have lost confidence and eventually interest. He wanted to know exactly what it would require to produce a show. He didn't whine or complain, (though he did give me some good natured ribbing for not simply providing a seasoned crew). No, Winston was firmly focused on finding a way to make it happen. He willed it to happen… and with his skills as an organizer and communicator, he saw to it that it did happen.

Recently his show, "Footprints of Pacifica" celebrated its 50th episode. We were all very proud of the accomplishment but none more so than Frank. In fact, he was so proud and excited that he asked the station to run a marathon of some of the best shows. Of course we obliged. He loved it and proudly promoted the marathon in his weekly Tribune column.

I never knew Mr. Winston in his "pre-Pacifica" life. I knew he was an accomplished immigration attorney, a broadcaster and even a producer of live Broadway type shows at one time. But these were stories I only heard in snippets. Frank was not focused on his past accomplishments but on creating things in the now. It seemed as if he knew his time here in Pacifica was short. He was determined to squeeze out every drop of goodness life had to offer before it was gone. He was a vital contributor to the Pacifica Democrats, Channel 26 and The Pacifica Historical Society. In 2007 he won a WAVE award for his TV show and in 08 was even awarded 'Volunteer of the Year' by the Pacifica Chamber of Commerce. Barbara Arietta says that to Frank, life was a banquet. I agree. Anyone who knew him knew he loved to eat J But he also loved to cook. Only, his kitchen was the telephone, the computer and the hundreds of scraps of paper on which he scribbled notes and ideas.

Frank was a 'wheeler dealer'. He was always selling me on how some action I might take to help another's cause would come back to benefit me. Of course, he was always right. It was Frank who suggested that PCT honor Kathleen Manning at our annual 'Evening with the Stars' celebration for producing "Footprints". It was Frank who encouraged the TV station to support the Bob Milne concert and insisted on giving us 50% of the profits even over my objections. That's because Frank believed in the concept of "win/win". His allies were his friends. And Frank supported his friends. He was engaged. He was committed. He was cool. Yes, frank winston was a wheeler and a dealer. But he dealt in social capital. His currency was kindness. His profit was good will.

More than anyone I've ever known, frank d. winston reveled in the fruits of his labor. Simply put, he loved to do good and loved being recognized for it. Who else could actually wear a crown around town and refer to himself the Emperor? For me, this is Frank's legacy. His eternal lesson. He serves as the quintessential example of success, unashamed success and the absolute enjoyment of it. After all, what good is doing good if you don't enjoy yourself along the way?

Frank and I enjoyed many long conversations. Often, they started as business matters but somehow wound their way on to politics, movies and world affairs. You know, the stuff friends talk about. I kind of knew any time I picked up the phone that his advertised two minutes would turn into twenty. That's ok though. I learned a lot about the man. For instance, I learned that his favorite movie was 1931's Academy Award winning "Skippy", starring Jackie Cooper (and written by Frank's cousin) about the kid with the big heart who always helped others. Funny. I think that might be a fitting way to describe Frank, as a big kid, with a big heart, who always helped others.

Once Frank was interviewed for a piece that ran in the Oakland Tribune. Of his TV show he said, "In the evening, when I'm on camera or preparing with the guests, I'm in another world…I'm just in an era of people who enjoy history and enjoy cooperating to present history. If we could translate that spirit from the community to the world, it would be so marvelous…"

Well Frank, I think you have transmitted that spirit to the world. I think you have. I will forever be thankful for that spirit. I will forever be thankful for the gentle prodding to do the right thing and for the attitude of gratitude you displayed when we did do the right thing. I will forever remember your can do attitude and your absolute delight at getting the job done and making a difference in the lives of others. Some people may remember Frank Winston as an ally. Some may remember him as an Emperor. I will always remember him simply as a friend. And I miss him so very much right now...

***The following is a quote that Frank used to close every "Footprints of Pacifica" show. It's a line from Henry Wadsworth Longfellow's 'A Psalm of Life'

"Lives of great men all remind us
We can make our lives sublime,
And, departing, leave behind us
Footprints on the sands of time…"

Adios Frank. I'll see you on the other side. - Marty
2008 TELETHON A BIG SUCCESS
PCT's 30th anniversary celebration Telethon and Auction was a big hit. Thank you to the many volunteers interns and board for makingt it happen! Thanks also to you, the people for watching and bidding on items! We raised over 11K which is the second straight year of over ten thousand dollar result!
Give us a call at (650) 355-8000!
Film Night 07
August 25th, Sanchez Concert Hall
Here are some pics from the event:
Pics from "Returning Home: Bringing Back the Common Murre"
Pics from "Unknown Pacifica"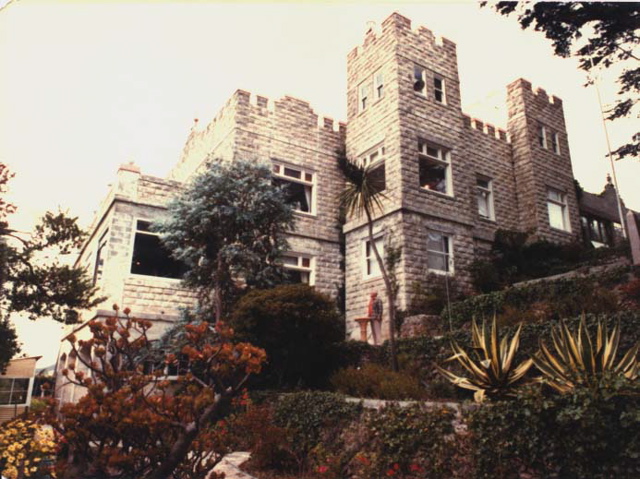 2007 EVENING WITH THE STARS
The event was a 30th anniversary celebration. In respect of this milestone, our honorees list contained some blasts from PCT's past. A postumous award was given to Maggie Ramirez, PCT's first general manager who passed away earlier in the year. In addition, long time PCT supporter John Elliott was also recognized. Here is a full list of our honorees. John Elliott, Maggie Ramirez, Cal Hinton, Nick Gust, Barbara Carr, Sandra Wallace, Karl Baldwin and May Gee.